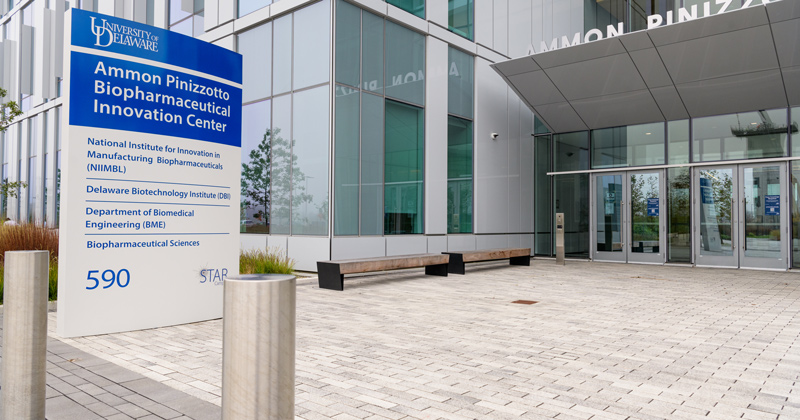 UD-based NIIMBL will receive $ 153 million in new federal funding
Article by UDaily Staff
Photos by Kathy F. Atkinson
July 16, 2021
U.S. Secretary of Commerce Gina Raimondo announced on Wednesday, July 14, new federal funding of $ 153 million for the National Institute for Innovation in Manufacturing Biopharmaceuticals (NIIMBL), including $ 83 million for coronavirus response projects .
The grant from the National Institute of Standards and Technology (NIST) extends federal funding for NIIMBL for another five years.
NIIMBL, a public-private partnership founded in 2017 based on the University of Delaware's Science, Technology and Advanced Research (STAR) campus, has more than 180 members representing large industries, small businesses, academic institutions, nonprofits, and federal agencies.
"This is an important investment for America," said Raimondo. "I am delighted that NIIMBL will continue to bring organizations of all kinds together to make an impact on our federal investment, empower our nation through better preparedness for pandemics, and build a more agile manufacturing industry for future economic power, cheaper manufacturing and less." foreign supply chains for our national needs for life-saving biopharmaceuticals. "
NIIMBL's goal is to develop partnerships and innovative approaches to biopharmaceutical manufacturing to improve US competitiveness in the industry.
"As the headquarters of NIIMBL, the University of Delaware is proud to work with the Department of Commerce and all of our dedicated partners to continue to develop better ways to manufacture and deliver biopharmaceuticals," said UD President Dennis Assanis. "With this innovative research program, we are also looking forward to training the workforce of tomorrow for this growing industry. The continuation of NIIMBL into a second five-year phase of increased resources speaks volumes for the impact of our program on promoting this critical national need. "
In the first four years, NIIMBL members have pursued more than 70 projects. Last year, the institute received $ 8.9 million in CARES Act funding to support several COVID-19-related projects.
The new support brings a breath of fresh air into the effort.
"Our vision is to lead and transform the development and adoption of next-generation biopharmaceutical manufacturing technologies that contribute to patient well-being," said Kelvin Lee, director of NIIMBL and Gore Professor of Chemistry and Biomolecular Engineering at UD.
"The additional funding will help our members make and catalyze advances that are essential to accelerate innovative technology and a skilled workforce."