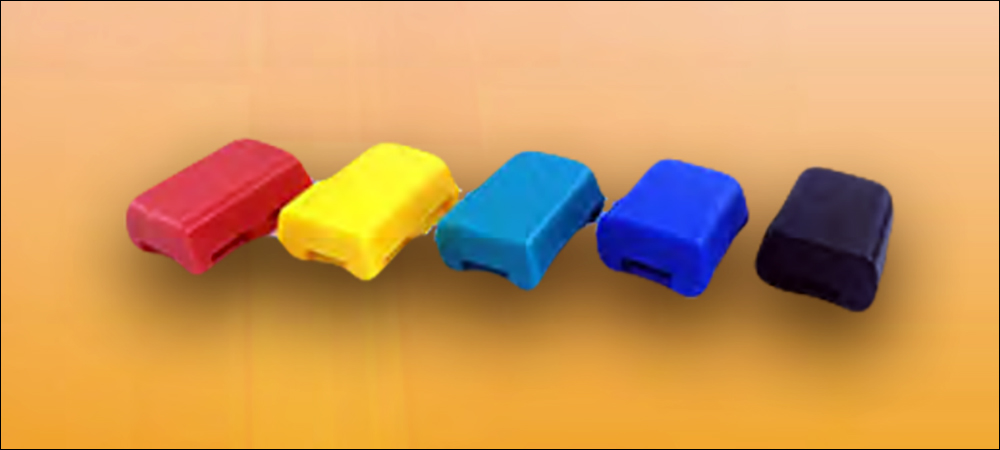 Summary of RFID messages | RFID JOURNAL
iDTRONIC presents NFC RFID tags for industrial applications; NeWave, MobiZcan partner to develop the Latin American RFID market; Avidity Science acquires UMG Inc., thereby expanding biomedical research to include RFID; Spotlite360 explores agricultural uses for blockchain, the Internet of Things; Quanergy Systems cooperates with Power Motion on LiDAR.
August 12, 2021Current news about the following organizations are presented here: iDTRONIC, NeWave Sensor Solutions, MobiZcan Technologies, Avidity Science, UMG Inc., Spotlite360 Technologies, Quanergy Systems and Power Motion.
iDTRONIC presents NFC RFID tags for industrial applications
iDTRONIC has announced that its RFID sleeve tags are now available with NFC forum compatible chip types. The tags are designed for industrial applications, contain a PA6 nylon housing and were developed for attachment to plastic pipes, cables or cylindrical containers. They can be secured with a wire loop or zip tie through two mounting holes, the company reports. In addition to its UHF and HF transponder ICs, the company is expanding its available product line with the I-Code SLI-X and NTAG ICs from NXP.
The announcement is intended to meet the increased demand for NFC forum-compliant chip types, reports iDTRONIC and supports mobile data acquisition via NFC-compatible end devices. With a protection class of IP68, the tag is protected against splashing water and dust accumulation, according to the company, while the nylon housing offers reliable performance and read stability in harsh environments. It withstands chemicals, aggressive liquids and temperature fluctuations from -40 to +85 degrees Celsius (-40 to +185 degrees Fahrenheit).
The operational maintenance of devices is an ongoing process, explains the company, and the goal is to ensure the full functionality of a device. The RFID sleeve tags are suitable for the identification and maintenance of hoses, cables or pipes, as indicated by iDTRONIC, as well as for tracking or protecting fire extinguishers, air conditioning systems and machines in industrial plants. The tags are available with numerous personalization options.
iDTRONIC offers laser engraving for customer-specific sequences of numbers or letters. The company can encode RFID tags with standard, NDEF or crypto coding, depending on individual requirements, such as a company's web address. Upon request, the company can provide the tags with a Microsoft Excel table with all coding details. The tags can be delivered pre-sorted in the packaging and are available in several color variants.
NeWave, MobiZcan partner for the development of the Latin American RFID market
NeWave Sensor Solutions announced that it has entered into an agreement with MobiZcan Technologies to jointly develop its RFID business in Latin American countries. MobiZcan has been appointed NeWave's exclusive representative for patented antennas and emitters and will continue to represent SLS RFID for RFID portals and tunnels in this region. The agreement will cover Mexico, Central and South America and the Caribbean.
NeWave offers solutions for RFID applications at item level, based on its patented wave antenna. Meanwhile, MobiZcan is working with customers, system integrators, resellers and consultants in the Latin American RFID and IoT markets, providing them with technology to accelerate the digital transformation of their business.
"MobiZcan Technologies is the exclusive sales agency for leading brands of RAIN RFID, IoT and AIDC technology in the Latin America region," said Mark Timms, CEO of MobiZcan Technologies, in a prepared statement. "With a local team of Spanish and Portuguese speaking seasoned sales professionals, MobiZcan is leveraging its network to greatly increase its clients' market share. We believe the formula will be successful with NeWave and its highly regarded wave antenna products."
"We at NeWave are very pleased to have entered into an agreement with MobiZcan to represent us in Latin America," added Barry Burnside, founder and board member of NeWave, in the prepared statement. "In recent years we have worked with numerous system integrators in LATAM who have expressed great interest in NeWave products, especially our wave antenna. MBZ will now provide the market resources and communication know-how required to drive these relationships forward and significantly expand them. "
Avidity Science acquires UMG Inc. and expands biomedical research to include RFID
Avidity Science has announced that it will expand its presence in the biomedical research sector with the acquisition of UMG Inc. According to the company, this investment will enable it to expand its range of radio frequency identification solutions for the global biomedical research community. Avidity Science offers water treatment, delivery, control, monitoring and service solutions for the life sciences and biomedical research, while UMG offers products for the secure and accurate identification of research models and integrated systems for automating the acquisition, recording and validation of research results creates data for researchers and institutions.
"We are excited about this investment as it adds unique design, engineering and manufacturing capabilities of RFID transponders and readers for the identification of research models," said Doug Lohse, CEO of Avidity Science, in a prepared statement. "The combination of UMG and Avidity's Bio Medic Data Systems portfolio enables our company to provide unmatched support for increasingly important biomedical research efforts around the world."
"We are confident that Avidity Science will build on our great tradition of innovation through continuous investments," added UMG President Don Urbas in the prepared statement. "We are delighted that our employees are joining the growing Avidity Science team and ensuring a smooth business transition. This investment is another important step in realizing our vision of empowering science to improve the quality of life. With six acquisitions and a large capacity expansion over the past four years, Avidity Science has built a diversified portfolio of solutions and a global presence, strengthening our position as a trusted partner to the research community. "
Spotlite360 explores agricultural uses for blockchain and the Internet of Things
Spotlite360 Technologies has announced that it will commercialize its technology suite that leverages blockchain and Internet of Things (IoT) functionality for supply chains. According to the company, it has selected market segments on which it will initially focus, including the pharmaceutical and healthcare sectors. Spotlite360 is currently exploring opportunities for its solutions for use in agricultural supply chains that have faced challenges related to labor concerns and oil prices.
Spotlite360's solutions can be integrated with systems, equipment and consumables common to agricultural industry players including farmers, land trucks, distribution centers and food retailers. Organizations can use their products to identify potential threats or inefficiencies with fewer data gaps. Blockchain records cannot be changed, the company explains, and the risk of tampering with records in the event of a dispute is reduced, so recalls can be expedited to protect consumers.
Using IoT sensors, Spotlite360's solutions continuously detect temperature, humidity, and other attributes of environments in which inventory is stored or transported, thereby maintaining product quality and freshness. The technology is designed to collect and consolidate sustainability data such as the fuel efficiency of commercial vehicles to support claims about social and environmental responsibility and to help consumers understand their food choices.
"Blockchain has proven to be a relevant, effective and disruptive technology in the agriculture sector, which is a major reason why we have chosen agriculture as one of our first target industries," said James Greenwell, president of Spotlite360, in a prepared statement. "Spotlite360 technologies go beyond simply tracking information in a distributed ledger, as real value comes from coordinating the use of IoT hardware to capture unprecedented amounts of data that can be used to make business decisions."
"While the demand for agricultural products will naturally remain relatively constant, the last few years have shown that operating conditions can be anything but constant," Greenwell added in the prepared statement. "We therefore believe that Spotlite360 can provide significant benefits for companies in the agribusiness by providing end-to-end visibility of the supply chain with reliable and automated access to critical information at every step."
Quanergy Systems cooperates with Power Motion on LiDAR
Quanergy Systems, a provider of OPA-based solid-state LiDAR sensors and intelligent 3D solutions for automotive and Internet of Things applications, has announced a partnership with industrial automation distributor Power Motion to develop 2D and 3D LiDAR – Delivering industrial automation solutions across South Central United States.
Power Motion offers industrial automation products from several manufacturers. The company has offices in St. Louis, Kansas City and Little Rock and serves Missouri, Kansas, Arkansas, Nebraska, southern Illinois, southern and western Iowa, northern Louisiana, eastern Oklahoma and northeast Texas. "Through our technical sales engineers," said Chris Tremblay, President of Power Motion, in a prepared statement, "our company will promote, use and support cutting-edge technical products, and we look forward to introducing Quanergy LiDAR sensor technology to our valued customers. "
Quanergy's computer vision LiDAR platform is based on 2D and 3D LiDAR sensors and the proprietary QORTEX perception software. The sensors provide 3D perception for a variety of industrial automation applications, including measurement and ranging, object detection, and packet profiling. Quanergy's LiDAR technology provides navigation and collision avoidance for mobile devices such as automated guided vehicles, mobile robots and forklifts to protect people working near such vehicles. The platform is intended to increase accuracy, efficiency and security by optimizing industrial automation processes and enabling industrial IoT applications.
Quanergy offers CMOS semiconductor sensors that are immune to vibration and offer over 100,000 hours mean time between failure (MTBF) for reliable, long-term performance in harsh industrial environments. "LiDAR is a powerful and versatile sensor technology that is quickly establishing itself in many industrial markets," added Tony Rigoni, Director of Industrial Markets at Quanergy, in the prepared statement. "Partnering with Power Motion as a distributor of Quanergy's LiDAR platform is an important step in solving customer applications and providing regional sales and technical support."
In June 2021, Quanergy signed a definitive merger agreement with CITIC Capital Acquisition Corp. closed. Upon completion of the transaction, the combined company Quanergy Systems, Inc will become ticker symbol QNGY. The transaction is expected to close in the fourth quarter of this year, subject to customary closing conditions being met.