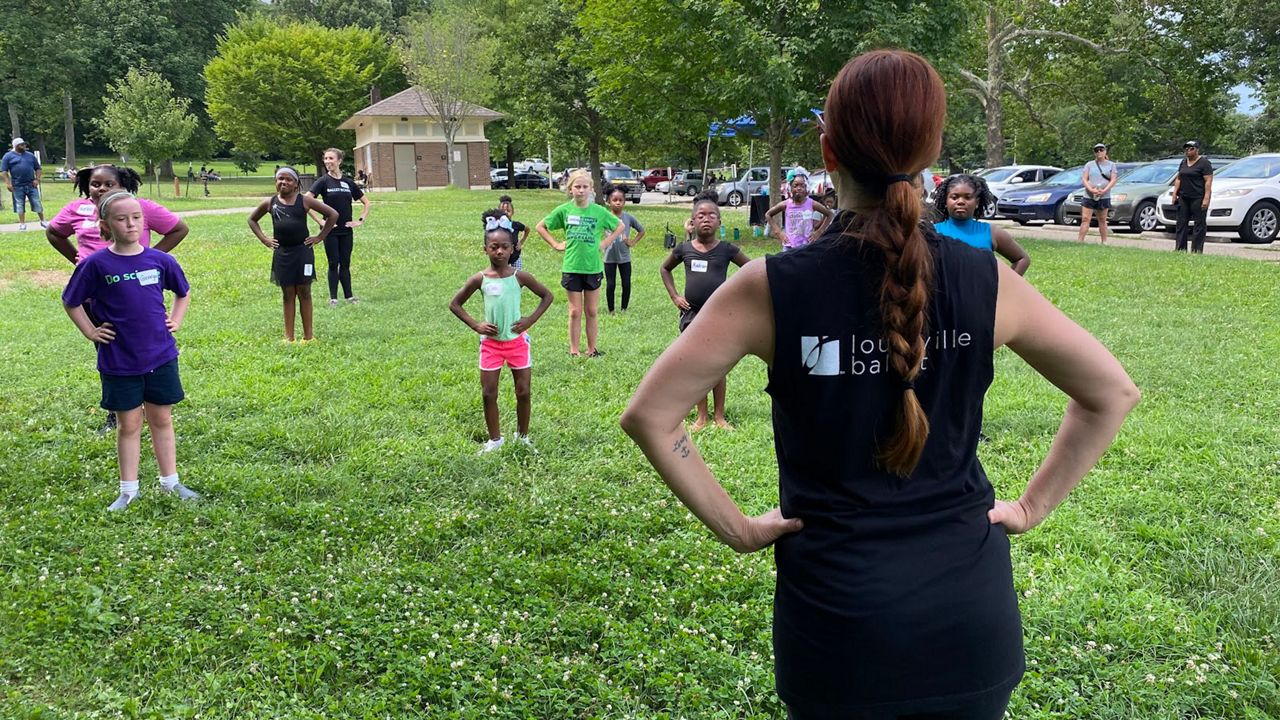 Ballet School Hosts Audition Tour in Louisville Park
LOUISVILLE, Kentucky – It costs approximately $ 40,000 to cover a ten-year education for a student at the Louisville Ballet School.
To remove this financial hurdle for families who can't afford the price, the ballet company is offering 20 students from the greater Louisville area the opportunity to learn ballet for free and prepare for a dance career.
The ballet company is using its Ballet Bound Audition Tour to find the next class of scholarship recipients.
Students are usually found in schools through residency programs, but they were unable to do so this year due to the COVID-19 pandemic.
Instead, they have partnered with Olmsted Parks to hold ballet shows throughout the Louisville metro area.
"At Louisville Ballet, we are trying to change how ballet looks to people and to be a reflection of the community in which we live. So we have students from all socio-economic backgrounds, ethnic backgrounds, racial backgrounds, all in the same class. "Together, participate and find a path to careers as professional dancers," said Stacey Blakeman, director of community engagement for the Louisville Ballet.
Ballet Bound should not only build diversity, but also be a path to a ballet career.
"As a student who might want to dance but doesn't have access to the art form or doesn't have the financial means to get you through ballet studies, I think this program could be a turning point for their life," Blakeman said.
Nine-year-old Kyah Young put on her dancing shoes at the age of three. She loved the opportunity to join the Louisville Ballet when the after-school program was brought to her school last year.
Within a few weeks she was auditioning to study classical ballet in the downtown studio.
"It felt weird. All of these judges were staring at me, writing things down and it was also very, very, not embarrassing, but kind of scary because you know you don't know what they're saying. You never know, "said Young.
It had to be good things to write about her because she received a recall that she was one of the few students selected for the ballet scholarship.
"I'm glad I got the scholarship," said Young. "I will not take this gift for granted."
She was one of 5 out of a class of 20 who did pirouettes for another scholarship to continue at Louisville Ballet School.
"I've already learned some of the basics, some just had to be brushed up because I barely recognized some of them at first, but then I became more familiar with them and became more skilled," she said.
Young has a few words for the budding ballet dancers who are in the shoes they wore a year ago: "Just do your best, remember your shape and strength."
The young dancer moves through life cycle by cycle.
"I'm very, very proud of myself because when I've made it this far," she said. "I mean, I don't know how far I can go."
The final audition for Ballet Bound will be on July 24th at 10am at Russell Lee Park
The scholarship winners will be announced on August 1st. More information about Ballet Bound can be found here.